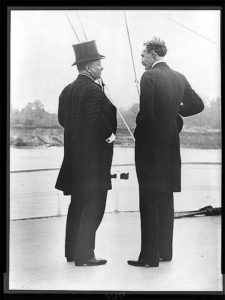 The beginning of the first U.S. environmental movement is often pegged to the 1908 Conference of Governors, which occurred during May 13-15.  The conference was the first meeting that called together the nation's leaders to address the topic of conservation.
Teddy Roosevelt was president during this time, his terms running from 1901 to 1909.  He was an ardent conservationist, advised throughout his presidential term by another prominent conservationist—Gifford Pinchot.  Pinchot was the nation's first chief forester, but more than that, he was a close advisor to Roosevelt on all areas of public policy.  Pinchot espoused a general principle that natural resources should be used sustainably, neither over-exploited nor under-exploited.
Pinchot, along with the leader of the Inland Waterways Commission, W. J. McGee, convinced Roosevelt that he should call the nation's leaders together to confront what they all saw as the despoliation of America's natural resources.  Accordingly, with McGee serving as the chief organizer of the event, Roosevelt invited hundreds of individuals to come to Washington for the conference.
Although themed as the governors' conference, the attendees went far beyond state and territorial governors and their representatives.  Anyone who was anyone came.  The entire cabinet, all justices of the Supreme Court, senators and congresspersons, leaders of virtually all major business and philanthropic organizations (not just environmental groups, of which there were few), and representatives of federal and state agencies attended.
The attendees met for three days, with speeches and presentations covering a wide range of geographic locations and types of resources.  At the time, "natural resources" included agriculture, minerals and mining, water and forests—virtually everything that humans depended on from nature.  Certain aspects that we now consider essential parts of natural resources, such as biodiversity, weren't represented—but it was early times for conservation.
Read More