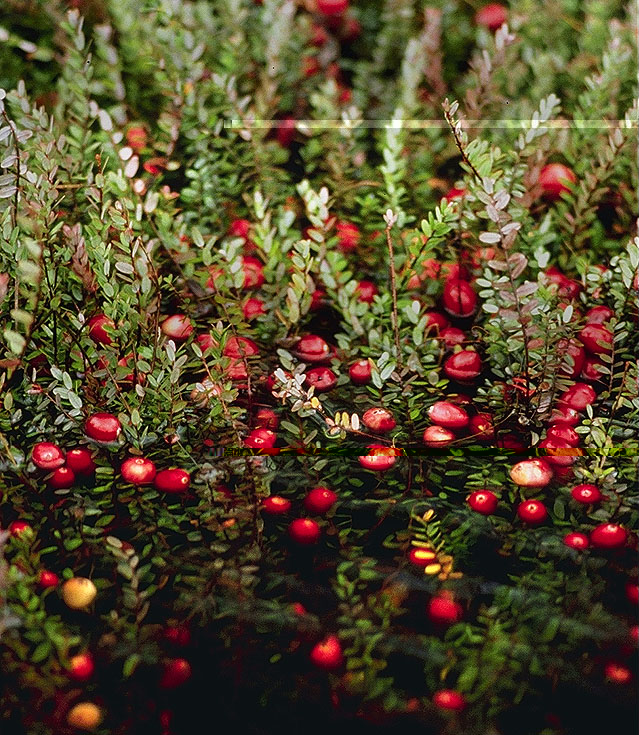 Well, it's almost Thanksgiving, so why not a day about that most American of fruits, the cranberry? According to all the nonsensical "national day" calendars on the Internet, November 23 is that day. I can't find anyone who claims to have started eat-a-cranberry day or any history about it, so let's just give the day to cranberries without any official endorsement.
And cranberries deserve a day. The cranberry is one special little fruit, full of all the good things nutritionists tell us to seek in our food. It is also all-American, endemic to the U.S. According to the Cranberry Marketing Association, about 1100 family farms grow cranberries, with Wisconsin and Massachusetts in first and second place for most grown. Cranberry farms go back generations, partially, I suppose, because the type of cultivation—old vines growing in reclaimed bogs and marshes—provides large barriers to entry into the business.
And cranberries deserve a day around this time of year, because, as we all know, the special dinners in this season aren't complete without cranberries. Cranberry sauce, cranberry bread, cranberries in the salad, cranberry punch, cranberry-scented candles.
What most don't know, however, is that one of the first "recalls" of food for pesticide contamination involved cranberries–the "Great Cranberry Scare of 1959." A perfect cranberry storm left the nation with empty bowls where the cranberry sauce should have been.
The first part of the perfect storm came in the mid-1950s, when cranberry growers began to use a new chemical, aminotriazole, to control weeds in their cranberry bogs. FDA approval of the herbicide required that it be applied only after the fall cranberry harvest so that none of the chemical, a known carcinogen, would contaminate the berries themselves. Part two was a change to federal food-safety legislation in 1958 (the Delaney Clause) that prohibited sale of foods containing cancer-causing substances (there were only a few known at the time). Part three was a series of tests of that showed aminotriazole contamination in some lots of cranberries from Washington and Oregon, in November. Secretary of the (then) Department of Health, Education and Welfare, Arthur Fleming, felt he had no choice but to warn the public not to eat cranberries.
Read More