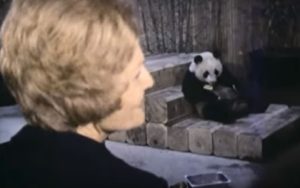 When President Richard Nixon met with Mao Zedong in Beijing in February, 1972, the summit opened up relations between the countries that had been closed since just after the end of World War Two.  But the real détente began when two much more cuddly ambassadors from China hit America's shores.
Ling-Ling and Hsing-Hsing, two juvenile giant pandas, arrived in Washington, DC, on April 16, 1972.  Reportedly, at a dinner during the Chinese meeting, Mrs. Nixon told the Chinese premier how much she loved giant pandas.  He replied, "I'll give you some."  The two pandas were flow to the U.S. in their own plane and transported secretly at dawn to the National Zoo in Washington "under security measures as tight as if they had been Chairman Mao," according to the New York Times.
Americans instantly adopted them in an outpouring of affection called "Panda-Monium!"  On the animals first day at the zoo, 20,000 admirers visited them.  The next Sunday, 75,000 people came, lined up for over a quarter-mile to glimpse something they had never seen—live giant pandas.   President Nixon reciprocated for the gift by sending China a pair of musk ox, named Milton and Mathilda (reports indicate that visitors to the Peking Zoo were disappointed by the animals, especially because a skin infection had caused them to shed their woolly coats; one died in 1975, the other by 1980).
The gift of pandas to the U.S. continued a long tradition of "panda diplomacy" by China.  Reports go back to the 600s, when the Tang Dynasty sent pandas to Japan.  China actually sent a pair of giant pandas to the Bronx Zoo in 1941, thanking the U.S. for humanitarian aid.  In the 1950s, China sent one panda, named Ping Ping, to Moscow and another to North Korea.  England got theirs in 1974.
Ling-Ling and Hsing-Hsing delighted American zoo visitors for many years.  But they frustrated zoo scientists who hoped to breed the pair (Ling-Ling was a female, and Hsing-Hsing a male).  Through many breeding cycles, both natural and artificial, Ling-Ling gave birth five times, but all five cubs died almost immediately after birth.  Ling-Ling died of heart failure in 1992, at age 23.  Hsing-Hsing, however, set the longevity record for a captive panda, living to the ripe old age of 28 (he died in 1999).
Read More