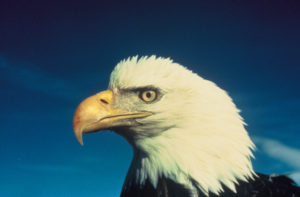 The Bald Eagle is our nation's symbol.  But Benjamin Franklin didn't like it.  Or so he wrote to his daughter, Sally Bache, in a letter on January 26, 1784.
Designing the national seal for the newly formed United States of America was a serious concern.  So serious that a committee to create the design was formed on July 4, 1776, on the heels of passage of the Declaration of Independence.  The committee had three members—Thomas Jefferson, John Adams and Benjamin Franklin.  Each of them offered a design that featured a classical theme—Moses standing by the shore (Franklin), the children of Israel in the wilderness (Jefferson), and the "Judgement of Hercules" (Adams).  Despite agreeing on the Declaration of Independence, they gave up on designing the great seal.  Two later congressional committees, in 1780 and 1782, also failed to agree on what the seal should look like.
After the failure of the third committee, the Secretary of Congress, Charles Thompson, took up the challenge.  He submitted a suggestion for the design, without drawing it, that featured an "American Eagle" as the centerpiece of the front side of the Seal.  The design concept was approved in June, but only drawn and struck in September, 1782.  The eagle was drawn as a Bald Eagle, and the rest is history.  The Great Seal of the United States has not been altered since.
But that didn't mean Benjamin Franklin had to like the idea that a Bald Eagle was to be our national symbol.  In his letter to his daughter, Franklin first denounced the character of the Bald Eagle:
"For my own part I wish the Bald Eagle had not been chosen the Representative of our Country. He is a Bird of bad moral Character. He does not get his Living honestly. You may have seen him perched on some dead Tree near the River, where, too lazy to fish for himself, he watches the Labour of the Fishing Hawk; and when that diligent Bird has at length taken a Fish, and is bearing it to his Nest for the Support of his Mate and young Ones, the Bald Eagle pursues him and takes it from him."
Read More