John James Audubon is unquestionably the greatest artist of avian life that the world has ever seen.  Others may surpass him in technical detail or realism or expressive emotion, but none performed the feat that makes him the king of ornithologists.
Jean Rabin was born on April 26, 1785, in what is now Haiti.  He was the illegitimate son of a French sea captain and his French mistress.  His mother died soon after his birth and he was sent to France to live with his father's wife.  In France, he lived the good life of a wealthy merchant family.  He wanted for little, as he said:  "Hunting, fishing, drawing, and music occupied my every moment.  Cares I knew not, and cared naught about them."
His father and step-mother adopted him formally, changing his name to Jean-Jacque Audubon.  In 1803, when he was 18, his father snuck Audubon out of the country to avoid his drafting into Napoleon's army.  On the ship to America, he changed his name to an English form:  John James Audubon.
He was sent to his father's estate in Mill Grove, Pennsylvania, to oversee a lead mining business.  The business failed, and Audubon, with his new wife, Lucy, moved to Kentucky, settling first in Louisville, later in Henderson.  His attempts at business again failed, and Audubon was briefly jailed over his debts.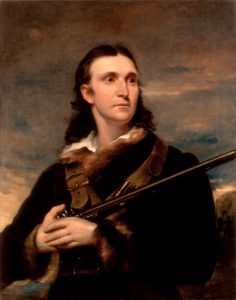 But his interest in birds and drawing them never faltered.  He said, "I never for a day gave up listening to the songs of our birds, or watching their peculiar habits, or delineating them in the best way I could."  The wilds of America gave Audubon a blank canvas to fill with bird life. Lucy knew that her husband had an extraordinary talent, and she encouraged him to explore, discover and paint.  Audubon made money however he could—painting portraits, teaching dance, performing taxidermy—but Lucy kept bread in the house for her and their children through work as a teacher and governess.  He wrote, "My wife determined that my genius should prevail, and that my final success as an ornithologist should be triumphant."
Audubon sought that triumph through a grand plan—to paint every bird in America, at life size, in a natural setting.  "How could I make a little book," he wrote, "when I have seen enough to make a dozen large books?"  When he had amassed enough paintings to demonstrate his skills and visualize his dream, he sought a publisher.  Finding none in the United States, he traveled to England in 1824.  He was an immediate sensation.  His paintings fascinated the aristocracy, feeding their romantic view of the American frontier.  Audubon sold subscriptions to his paintings—for the astounding prices of $1,000, a near fortune at the time—around England and Europe.  He found a publisher and engraver to carry the work forward.
He returned to America and continued the enormous task before him.  He traveled throughout the continent, shot or bought birds, mounted them immediately and then drew and painted them.  Page by page his portfolio expanded.  His monumental Birds of America was published in serial form from 1827-1838.  The completed work included 435 life-sized prints of 1065 birds in 489 species.  It was printed on the biggest paper available, called an elephant folio, each piece measuring about 26 inches by 39 inches.  Laid side by side, the prints would stretch for one-quarter of a mile.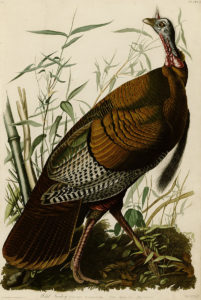 Birds of America rightfully established Audubon as the greatest bird painter of all time, but he was more than just an artist.  He was the first person known to have put bands on birds to track their migration; he tied colored yarn on the legs of Phoebes, learning that they returned to the same location year after year.  He performed experiments to show that vultures were visual scavengers, disproving the common belief that they found food by scent.  He wrote a companion book for his prints, Ornithological Biography, that described the natural history of the species he drew.  He was hard at work on an equally grand vision to paint all the mammals of North America, but the project ended with his death at age 65.
He was also a conservationist, fully aware that the transformation of the eastern U.S. from forest to farm and then to city was reducing the abundance of birds and other wildlife.  He succinctly summed up his—and, I would venture, our modern—philosophy of conservation:  "A true conservationist is a man who knows that the world is not given by his fathers, but borrowed from his children."
References:
Audubon Society.  John James Audubon, The American Woodsman:  Our Namesake and Inspiration.  Available at:  http://www.audubon.org/content/john-james-audubon.  Accessed April 21, 2018.
Biography.  John James Audubon.  Available at:  https://www.biography.com/people/john-james-audubon-9192248.  Accessed April 21, 2018.
Brainy Quote.  John James Audubon Quotes.  Available at:  https://www.brainyquote.com/authors/john_james_audubon.  Accessed April 21, 2018.
Chowder, Ken.  2007.  John James Audubon:  Drawn From Nature.  American Masters, PBS.  Available at:  http://www.pbs.org/wnet/americanmasters/john-james-audubon-drawn-from-nature/106/.  Accessed April 21, 2018.
Florida Museum of Natural History.  John James Audubon.  Available at:  https://www.floridamuseum.ufl.edu/naturalists/audubon01.htm.  Accessed April 21, 2018.