President Richard Nixon signed into law the creation of Cumberland Island National Seashore, Georgia, on October 23, 1972.  His action punctuated a 400-year-old journey of human and natural change that continues to this day.
Cumberland Island is the southernmost barrier island on Georgia's Atlantic coast, between Jekyll Island on the north and Florida's Amelia Island on the south.  The island is 17.5 miles long, and between 0.5-miles and 3.0-miles wide.  A large part of the National Seashore's 36,415 acres are marshes and shallow-water flats.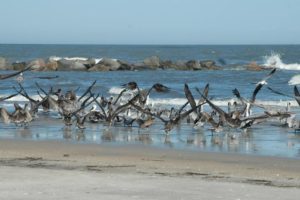 The island has been inhabited and modified since pre-history.  First Native American Indians lived on the island, using fire to control their environment.  Then, in the 1560s, Spanish settlers came to the island, introducing horses, hogs and cattle and many European crops.  Feral hogs—unpopular and being controlled—and wild horses—wildly popular and virtually untouchable—remain on the island.  Later, plantations staffed by slaves grew cotton that became a famous product of the island.  In the 1900s, the island became popular as a recreational area for industrial barons, with the Carnegie family owning up to 90% of the island at one time.
But as the Carnegie family lost interest in the island, they offered the property to the National Park Service.  With the National Seashore proclaimed in 1972, the National Park Service began buying tracts from the Carnegies and others, creating the park.  Although most of the island lies within the park boundaries, a substantial portion of the lands are still owned by private individuals, some outright and others with a life-time rights of use.
Read More