The Bramble Cay melomys, a small rodent that lived on one small island in the Great Barrier Reef region, was declared extinct on June 14, 2016.  The extinction is notable as the first extinction of a mammal caused by climate change.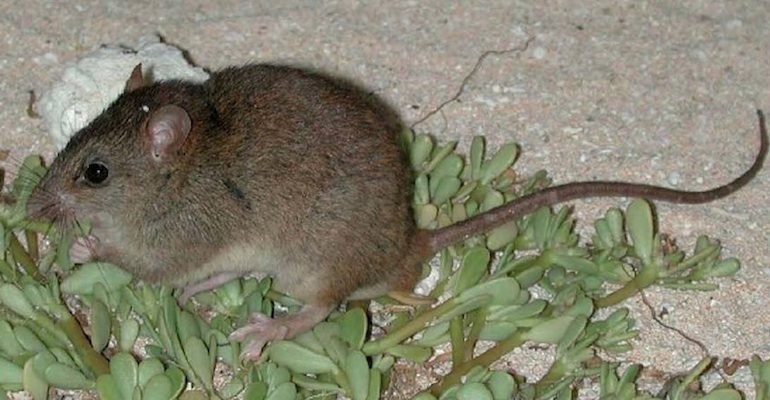 The Bramble Cay melomys (Melomys rubicola) was about 5 inches long, with a similar length tail. It had a rough scaly-looking tail—leading to its other common name as the Bramble Cay mosaic-tailed rat. It lived in shallow burrows under the island's vegetation and was probably an omnivore, feeding on both plants and sea-bird eggs from the numerous bird colonies on the island.
The rat picked a tough place to evolve.  Scientists hypothesize that it had lived isolated on Bramble Cay, a 10-acre coral reef island, for at least one million years.  The island is the northernmost extent of the Great Barrier Reef, lying in the midst of the Torres Strait, a transportation corridor between Australia and Papua New Guinea (learn more about the Great Barrier Reef here). The low-lying island is covered over a portion of its area by grasses and low shrubs, but the vegetation is greatly disturbed by the nesting activities of sea birds and sea turtles.  The island is one of the premier nesting sites in Australia for green turtles.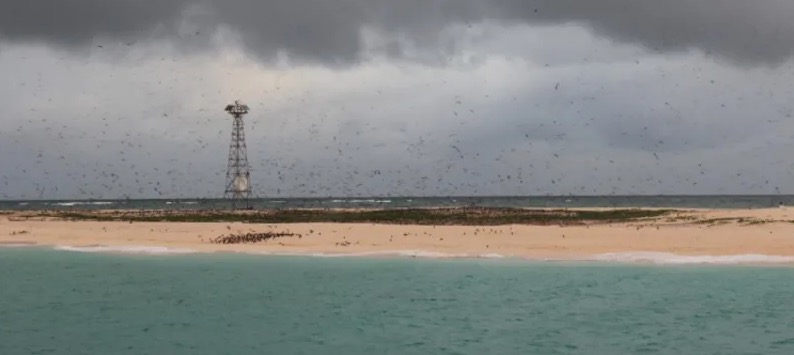 The island is also buffeted by storms and strong tides that cover large portions of its surface at times. However, with rising sea level and stronger storms associated with climate change, the island has been subject to more frequent and more extensive flooding in recent years.
That flooding proved too much for the Bramble Cay melomys. Either because of loss of vegetation or from direct drowning of individuals, the population had been declining slowly. Because of the decline and the species isolation, the IUCN Red Book had classified the species as critically endangered beginning in 1996. A proposed captive-breeding project never got off the ground. The last confirmed sighting of the rat was in 2009, and repeated surveys since then have captured no specimens. In 2016, both the Australian government and IUCN declared the species extinct—the first mammal in the world to succumb to climate change.
References:
Ellison, Joanna C. 1998. Natural History of Bramble Cay, Torres Strait. Smithsonian Institution, Atoll Research Bulletin No. 455. Available at: https://web.archive.org/web/20090226041803/http://www.botany.hawaii.edu/faculty/duffy/ARB/450-458/455.pdf. Accessed June 14, 2017.
Hance, Jeremy. 2016. 'Devastated': scientists too late to captive breed mammal lost to climate change. The Guardian, June 29, 2016. Available at: https://www.theguardian.com/environment/radical-conservation/2016/jun/29/bramble-cay-melomys-australia-extinction-climate-change-great-barrier-reef. Accessed June 14, 2017
IUCN Red Book. 2016. Melomys rubicola. Available at: http://www.iucnredlist.org/details/full/13132/0#end_uses. Accessed June 14, 2017
Queensland Government, Department of Environment and Heritage Protection. Bramble Cay melomys. Available at: https://www.ehp.qld.gov.au/wildlife/threatened-species/endangered/endangered-animals/bramble_cay_melomys.html. Accessed June 14, 2017
Smith, Lauren. 2016. Extinct: Bramble Cay melomys. Australian Geographic June 15, 2016. Available at: http://www.australiangeographic.com.au/news/2016/06/extinct-bramble-cay-melomys. Accessed June 14, 2017