The name Herbert Zim may not mean much to you—but what he produced will. Zim, born on July 12, 1909 (died 1994), was the brains and brawn behind the Golden Nature Guides, also known simply as Golden Guides.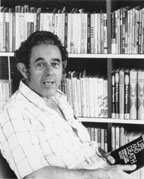 Herbert Spencer Zim was born in New York City, but moved with his family at an early age to California.  He returned to New York as a college student, eventually earning BS, MS and PhD degrees from Columbia University.  He became an elementary science teacher for the Ethical Culture Schools in New York City for two decades.  He was a conscientious objector during World War Two, servi            ng as a military trainer and in public service during the war.  He later moved to the University of Illinois as a professor of education from 1950-1957.
His primary impact on conservation, however, was as an author and editor of children's science books. Early books were often about physical science, but he soon turned to writing books about nature. In 1945, he originated the Golden Guides, a series of 160-page field guides that could be carried in a pocket. The Guides covered a broad range of subjects, including plant and animal taxa, geological formations, and regions of the U.S. No budding young naturalist in the 1950-1970s would venture into the field without one or more of these books in her/his backpack or pockets.
Zim retired from teaching in the 1960s and moved to an oceanside retreat on Key Largo, Florida, where he continued to write and edit. In total, he produced more than 100 books. His books were described by the New York Times as "concise, engaging and comprehensible to children without being simplistic."
I had the honor of staying at his Key Largo home in 1969, as a senior at the University of Illinois. About a dozen undergraduates were visiting Florida on a spring break field excursion led by Hurst Shoemaker, professor of ichthyology at Illinois and his co-author for the Golden Guides on Fishes. I remember Zim as a genial scholar with an encyclopedic knowledge of the natural world and a unabashed love for his local environment.
References:
Archives West. Herbert Spencer and Sonia Bleeker papers, 1934-1976. Available at: http://archiveswest.orbiscascade.org/ark:/80444/xv50293. Accessed July 12, 2017.
Perez-Pena, Richard. 1994. Herbert S. Zim Is Dead at 85; Wrote Childrens' Science Books. New York Times, December 12, 1994. Available at: http://www.nytimes.com/1994/12/12/obituaries/herbert-s-zim-is-dead-at-85-wrote-children-s-science-books.html. Accessed July 12, 2017.
University of Illinois Press. 2017. 200 Years of Illinois: Golden Nature Guides, July 12, 2017. Available at: http://www.press.uillinois.edu/wordpress/?p=21733. Accessed July 12, 2017.
University of Southern Mississippi. Herbert S. Zim Papers. Available at: http://www.lib.usm.edu/legacy/degrum/public_html/html/research/findaids/DG1086f.html. Accessed July 12, 2017.