The United States passed into law the "New Sponge-Mining Act" on August 15, 1914.  This act replaced and repealed a prior act of the same type, passed on June 20, 1906.  The 1906 law was the first expression of the authority of the United States government to regulate commercial fishing.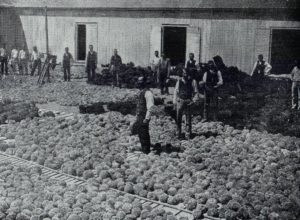 The Sponge Act, as it is now known, has been in continuous enforcement since 1914.  It regulates the size of harvested sponges to five inches or bigger, measured at the broadest part of the sponge.  Size limits like these are generally used to assure that an organism has an opportunity to reproduce at least once before being harvested.  In the case of sponges, which are colonies of simple cells, reproduction is not the problem.  Instead, the size limit was created simply to allow small sponges to grow sufficiently large that enough would be around to continue a sustainable fishery.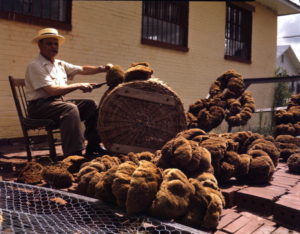 Sponges are commercially harvested in the United States only in the state waters of Florida and the adjacent federal waters.  Florida has adopted the same 5-inch size limit on the harvest of sponges.
Although the earth's oceans contain more than 9000 species of sponges, only a few species are commercially harvested.  The traditional harvest location was in the Mediterranean waters around Greece, but the discovery of abundant sponge populations in Florida in the mid-1800s led to a large industry developing in Florida, especially around Tarpon Springs on the Caribbean coast.
References:
Legal Information Institute.  16 U.S. Code section 781 – Taking or catching, in waters of Gulf or Straits of Florida, commercial sponges of less than prescribed size, and landing or possession of same.  Available at:  https://www.law.cornell.edu/uscode/text/16/781.  Accessed August 14, 2017.
Northeast Fisheries Science Center.  Historical Highlights.  Available at:  https://www.nefsc.noaa.gov/history/timeline/1900.html.  Accessed August 14, 2017.
Stevely, John, and Don Swear.  2016.  Florida's Marine Sponges.  University of Florida, Sea Grant Institute, SGEF 169.  Available at:  http://edis.ifas.ufl.edu/pdffiles/SG/SG09500.pdf.  Accessed August 14, 2017.