Today the U. S. Forest Service oversees the management of about 232 million acres of our nation's forests and related ecosystems.  But it had to start somewhere.  That starting point was the first federal law dealing with forestland—the Federal Timber Purchases Act of February 25, 1799.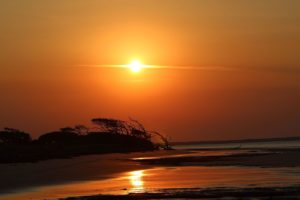 The 1799 act gave the government authority to purchase wood and land to provide resources for the navy. The primary target was the live oak, which grows in the southeastern U.S. and was highly coveted as a material for wooden ships—decking, framing for hulls and other needs that required large planks of wood. The government purchased two islands off the Georgia coast—Blackbeard and Grover Islands.
The 1799 act was followed with an amendment in 1817 that authorized the government to buy a number of islands in Louisiana, also filled with live oak forest. Another act, in 1827, reserved about 30,000 acres near Pensacola, Florida. This was intended to be the first forest experiment station, where research into the silviculture of live oaks could be conducted. Unfortunately, politics intervened and no research occurred.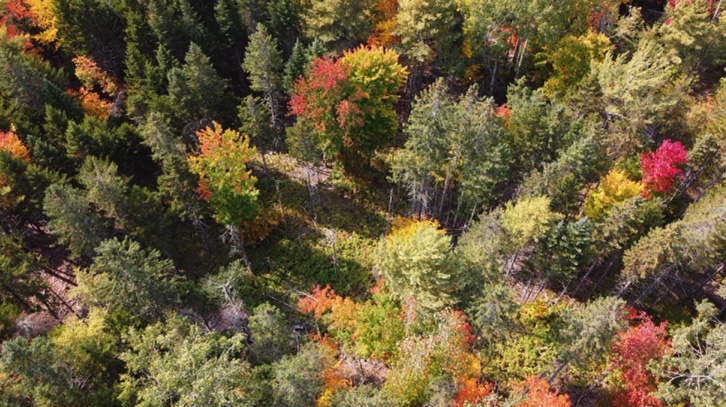 New laws and new presidential decrees kept adding timber holdings to the lands reserved for their use to grow live oak for the navy. Through 1860, about 200,000 acres of live oak forest had been set aside for conservation, to assure a steady supply of high quality live oak resources. With the transition to steel-hulled and power ships after 1860, the need for these reserves declined, and over the next half century, all of the live oak reserves were sold off or turned to other purposes. For example, the two original reserves were given new lives; the 5,600-acre Blackbeard Island is now a National Wildlife Refuge, and the much smaller Grover Island is now in private ownership.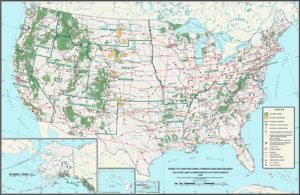 From these early laws and commitments to conserving important forest lands came our current National Forest System. Today, the U.S. Forest Service administers 283 separate units, composed of 154 national forests (97% of all their lands), 20 national grasslands (2%) and about 100 smaller units for various specialized purposes (1%).
Most federal forests are in the western U.S. (about 70%) and Alaska (10%).  Only about 20% of federal forests are in the eastern U.S.  The states holding the most federal forest land are California (24 million acres), Alaska (24), Idaho (22), Montana (19) and Oregon (17).  Several eastern states have no federal forest land (Delaware, Maryland, Massachusetts and Rhode Island), and Connecticut has just 23 acres.
References:
Sullivan, Buddy. 2003. Blackbeard Island. New Georgia Encyclopedia, July 17, 2003. Available at: https://www.georgiaencyclopedia.org/articles/geography-environment/blackbeard-island. Accessed February 15, 2018.
U.S. Forest Service. 2017. Land Areas report (LAR) – as of September 30, 2017. Available at: https://www.fs.fed.us/land/staff/lar/LAR2017/lar2017index.html. Accessed February 15, 2018.
Williams, Gerald W. 2003. Private Property to Public Property: The Beginnings of the National Forests in the South. American Society for Environmental History, Providence, RI, March 26-30, 2003. Accessed February 15, 2018