The United Nations Intergovernmental Panel on Climate Change is the world's leading source of comprehensive information on global climate change. And during the years when the panel was forming its seminal analyses and conclusions, it was led by a man known to his friends worldwide simply as "Patchy."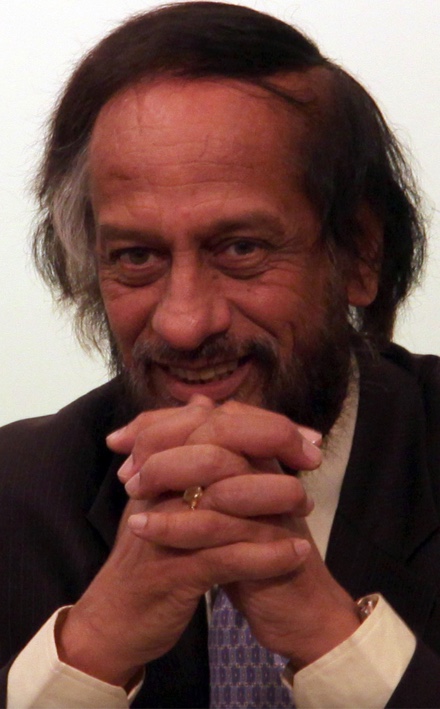 Rajenda Pachauri was born in Uttarakhand, India, at the base of the Himalayan mountains, on August 20, 1940 (died 2020). The beautiful setting in northern India nurtured his love of nature and his concern for sustainability of the earth. He studied at La Martiniere College in Uttar Pradesh and at the Indian Railways Institute of Mechanical and Electrical Engineering before coming to the United States in the 1970s to received both an M.S. and Ph.D. from North Carolina State University (in industrial engineering and economics). He held several short-term positions at U.S. institutions before returning to India in the late 1970s.
In 1981, he co-founded The Energy Resources Institute (known globally as TERI) near New Delhi. He led that organization for three decades, from 1981 to 2016. Under his leadership, TERI grew to become a global force in energy research and policy analysis. TERI's mission is "to usher transitions to a cleaner and sustainable future through the conservation and efficient use of energy and other resources, and innovative ways of minimizing and reusing waste.
One of Patchy's and TERI's signature initiatives was the "Light a Billion Lives" program. Begun in 2007, the program aims to "replace inefficient and harmful lighting and cooking methods with efficient, affordable and reliable clean energy alternatives." When I had the privilege to spend time with Patchy during a visit to NC State, he explained that a core element of the program was to furnish solar lanterns to homes that did not have electricity, allowing young students to study in the evening without the health danger presented by burning kerosene lamps. In addition, the program set up locally owned businesses where the solar lanterns could be recharged during the day. Students at NC State worked with TERI to develop more efficient solar lanterns. According to the program's website, more than a million homes and 5.65 million people have been impacted.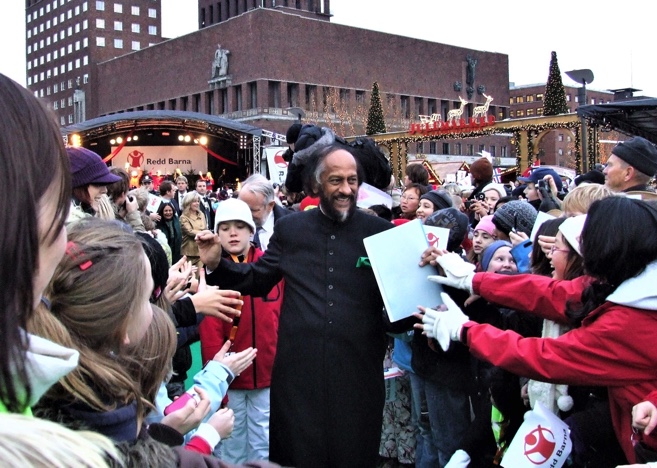 Patchy's most widely known accomplishment, however, was his leadership of the UN Intergovernmental Panel on Climate Change. From 2002 to 2015, he led the program, which involves hundreds of scientists from around the world working collaboratively to assess the scientific basis for understanding climate change. The reports published by the IPCC have been the foundation for modern efforts to recognize, mitigate and adapt to the realities of climate change. In 2007, the IPCC, including Patchy as its leader, received the Nobel Peace Prize (along with Al Gore), for its "efforts to build up and disseminate greater knowledge about man-made climate change and to lay the foundations for the measures that are needed to counteract such change."
Pachauri wrote 25 books during his career, was awarded dozens of honorary doctorates (including one from NC State), and received among the highest civilian awards from nations around the world, including India's second-highest civilian award, the Padma Vibhushan, in 2008. His career was marred by an accusation of sexual harassment by a former college (a charge the he denied and remained in court at the time of his death in 2020).
The impact of Dr. Pachauri on the global progress to address climate change is undeniable. He leadership showed the world the consequences of unfettered use of greenhouse gases, setting the world's nations on their current agendas to make a more sustainable world. We do well to continue to follow his warning as we engage more fully in the task to eliminate fossil fuels: "The price of waiting is enormous."
References:
Schwartz, Joh. 2020. Rajendra Pachauri, 79, Dies; Led Nobel-Winning Climate Agency. The New York Times, Feb. 14, 2020. Available at: https://www.nytimes.com/2020/02/14/science/rajendra-pachauri-dead.html.
TERI. 2020. Dr. R K Pachauri: A visionary for sustainable development. Available at: https://www.teriin.org/memoriam/bio.php.
TERI. Mission and Goals. TERI, The Energy and Resources Institute. Available at: https://www.teriin.org/mission-and-goals.
TERI. Lighting a Billion Lives. Available at: http://labl.teriin.org/index.php.